About Us- FAQ
May 5, 2022: We regret our Online Store is closed temporarily as a result of ongoing supply chain and labor shortages.
SHIPPING SPECIFICS: 
We ship FROZEN on MONDAY so your treats don't sit in a truck over the weekend. Gem City Fine Foods ships via UPS, which calculates your shipping costs at checkout. We want your products to arrive in great condition, but please understand that once the box leaves our facility, it is literally out of our hands, and we cannot guarantee.
Please note: We do NOT ship during holiday weeks.

FAQ

202

2 (Click left for more info.)
PRODUCTS ARE LISTED HERE AT ONLINE RETAIL PRICE.
Retail and food service buyers, please scoot over to our Wholesale & Foodservice page or reach out for information on purchasing wholesale through distributor or FOB at sales@gemcityfinefoods.com. Thank you!
Recognizing the need for truly delicious quality gluten-free foods, Gem City Fine Foods moved into a dedicated bakery facility in 2012. We now produce exclusively certified gluten-free (and nut-free) gourmet desserts. We offer a wide range of options of exceptional quality and flavor, and are continually evolving our line. In 2018, we removed nuts and soy milk from our products and facility to further accommodate the food allergic dessert lover.
Our products are certified through the Gluten-Free Certification Organization (GFCO) via the Gluten Intolerance Group (GIG). Their testing and our standards exceed the current FDA regulations and international standards of 20 parts per million (PPM). GCFF maintains our products at a gluten-free level that is much higher than international standards. Our facility is nut free as well.

Gem City Fine Foods' unwavering commitment to support the gluten-free and allergen community is fulfilled in part by our excellent manufacturing standards to create only the best in safe high-quality delicious gluten-free products. We participate annually in food safety and gluten-free audits, bringing in a third party to validate and help us ensure that our product meets or exceeds industry standards. This commitment is embraced by every Gem City Fine Foods team member. In turn, we works cooperatively with our suppliers and constituents and utilizes resources wisely and ethically to achieve and maintain sustainable success. We use high-quality ingredients, including only cage-free eggs and synthetic hormone-free dairy ingredients in our dedicated bakery.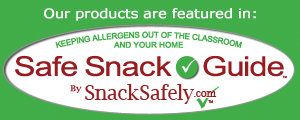 Gem City Fine Foods is a proud member of the Specialty Food Association and  Utah's Own.
Our dedicated team of bakers, kitchen and office assistants, and packaging staff is led by Owner/Operating Member Richard Kent; CEO/ SVP Sales & Marketing Lisa Cox, a 7+-year veteran of the company, and Operations Manager Liam Chenail, who brings an inside knowledge of our company and fresh energy to the team. We enjoy cooking at home and experimenting with new gluten free ideas. 
Our Team:
Above: Owner Rick Kent and CEO/ SVP Sales & Marketing Lisa Cox enjoy getting out of the Laramie WY administrative office to meet with people at trade shows and gluten free/ food allergy expos. Below left: Operations Manager Liam Chenail in his former domain, the Packaging Room. 
Above right: Bookkeeper Dianna Orrels dots the I's and crosses the T's for us in Laramie, WY. 
Below: Packaging Lead DJ Williams has things covered in that department.
Below left: Social Media and Marketing Assistant Jesse Erickson helps keep us visible.
We are pleased to have assistance from a number of people and companies outside the Gem City Fine Foods walls, including :
Jack Marcelis, New-Gen Marketing, Sales Broker, Intermountain and West
Sheri Allen, Artisanal Touch, Sales Broker, Florida and East Coast
Amanda Kanashiro, Social Media Manager
Michele Dodane (Denver area) and Megan Flora (Montrose, CO), local Brand Ambassadors 
Monica Smith, SQF Level 2 Food Safety Consultant
Alicia Branham, Bran Marketing
and more!
Our Distributors: KeHE, Nicholas and Co, Sysco, UNFI, US Foods
Feel free to contact us at 801/746-4454 or info@gemcityfinefoods.com. We will make sure your question reaches the right contact.
Gem City Fine Foods
3403 S., 1400 W., Ste. C
West Valley City, UT 84119
(801) 746-4454